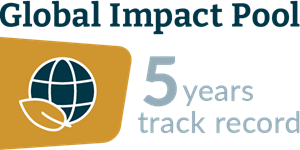 This month, the Global Impact Pool of Van Lanschot Kempen Investment Management celebrates its fifth anniversary. Launched in January 2018, the investment fund invests in assets that make a positive contribution to our society and climate, whilst also aiming for market rate financial returns. The pool focuses on investment opportunities in private markets, including private equity and infrastructure, because these markets offer the best balance between impact and return.
Ralph Engelchor, Co-Portfolio Manager for the Global Impact Pool, explains:
'As a team we are immensely proud of the confidence that our investors have in us. In the past five years we have managed to build an impactful and diversified portfolio that has a positive contribution to solving largest societal and environmental challenges problems such as climate change , while at the same time generating market rate returns for our investors. As the portfolio is almost fully invested now, we expect the impact and financial return of the pool to improve further.
Simon Oosterhof, Co-Portfolio Manager for the Global Impact Pool, adds:
'Our highly driven team of specialised fund managers and sustainability experts analyses the impact universe in order to select the highest-quality funds for our pool. Investors have currently entrusted € 210 million in capital to our fund and our well-developed investment pipeline provides us with ample opportunities to grow further in the years ahead and scale up our impact.'
Access to impact investing
In order to make impact investing accessible to its clients, Van Lanschot Kempen Investment Management in 2018 introduced the Global Impact Fund. This pool invests in private markets with the aim to make a positive contribution to four impact themes: Basic needs & well-being, SME development & decent work, Circular economy and Climate & the Energy transition. Impact results are measured specifically on the basis of five of the Sustainable Development Goals (SDGs) defined by the United Nations. The pool aims to invest in countries where considerable gaps remain in SDGs.
The Global Impact Pool impact investing is easier and more efficient, as impact funds are usually out of reach for individual. In addition, the Global Impact offers one investment in a diversified impact investment portfolio. An additional advantage is that operational challenges and implementation issues associated with investing in private markets, besides measuring and managing the intended impact, are taken care of by this investment product. This is set out in comprehensive reports that participants receive on a quarterly basis.