Specifically, we aim to address the following impact themes:
Basic needs & well-being: Healthy the provision of basic goods & services for the underserved including water and health & well-being.
SME development & decent work: creating decent jobs with fair employment practices to eradicate poverty;
Circular economy: Support sustainable consumption and production aimed at doing more and better with less, and;
Climate & energy: Contribute to abundant clean energy and reduction of CO₂ emissions.


Bearing in mind our mission, there is also the explicit target to generate a market rate financial return.

Impact highlights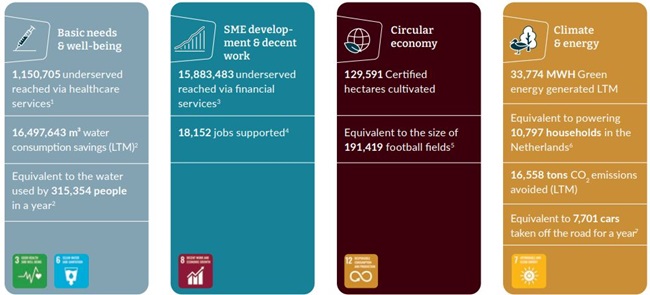 Financial return
The Global Impact Pool (GIP) achieved a return of -0.9% for the FA share class during the seconder quarter of 2023.
The Private Equity (PE) and Venture Capital (VC) buckets detracted from performance, as both these asset classes face continued headwinds from the challenging market environment. There is still less capital available in this market, as investors have become more risk averse due to the high interest rates, high energy prices and inflation rates and perceived worldwide political instability. All these developments eventually led to more uncertainty, a more difficult fundraising and IPO environment and eventually lower valuations in the market. This also has an impact on the GIP's portfolio of companies within the PE/VC bucket. On the positive side, most of the underlying fundamentals of GIP's portfolio companies (like e.g. revenue growth and profitability) look solid and are developing in line with expectations.
Portfolio developments
The GIP continued its mission to pool capital and scale impact on behalf of its participants during the second quarter of 2023. Assets under management increased significantly to €196 million at the end of June 2023. This increase can be attributed to called capital from investors in the E-share class (commitment share class) in order to fund new portfolio opportunities, as the negative performance decreased the assets being managed slightly. On a net basis, there have been inflows of approximately €3 million for the GIP during the quarter. This fresh capital allows the GIP and its investment partners to deploy capital in a market that offers many opportunities at relatively attractive valuations.


During the quarter, capital was called by nearly all of GIP's investment partners. Most capital was drawn by LeapFrog, the GIP's Emerging Market Private Equity investment partner focused on underserved low-income consumers, for their Emerging Consumer Fund IV and for the co-investment in HealthifyMe. Also Impax, a European value-add sustainable infrastructure manager, called a significant amount of capital for their Impax New Energy Investors Fund IV. Furthermore, we received the first call for the Environmental Technologies Fund 4 of ETF Partners, our European climate investment partner focused on investing in start-ups which provide technological solutions for the climate transition.


The overview below provides a summary of the most important developments in the portfolio this quarter per individual impact theme.

Basic needs & well-being
During the quarter, the GIP has increased its exposure to the Basic needs and well-being theme by allocating additional capital. Our investment partner LeapFrog called capital to finance their Fund IV investment in Redcliffe Labs and to finance the co-investment in HealthifyMe. Redcliffe Labs is one of India's largest digital health companies and caters to the large, fast-growing general diagnostics services market in the country. It is a diagnostics platform combining customer acquisition via online performance marketing and home collection of samples with a traditional offline collection centre network and referral labs. At the end of 2022, it owned 52 labs across more than 150 towns and cities and employs over 1,100 phlebotomists and drivers who work from the 1,226 collection centres located close to the customers in the neighbourhoods. HealtifyMe is the largest consumer health app in India with over 30 million downloads as of today. Through its app, the company provides affordable digital health services to consumers in India, Southeast Asia and the broader Indian Diaspora. A large share of its customer base concerns users who live in lower-tier cities and who lack easy access to health-services. The solutions addresses the growing issue of obesity and non-communicable diseases like Parkinson's and diabetes. The company has experienced a steep growth path over the years, both in financial terms (e.g. revenue growth) as well as the impact it is achieving (e.g.increased the health of a growing number of emerging consumers).
SME development & decent work
Within the theme of SME development and decent work, our investment partners made good progress by completing new or follow-on investments. Quona Capital, our investment partner focusing on early-stage fintech companies in underserved economies, called capital for their existing investment portfolio. The funds were used for follow on investments in ZestMoney, Sunday and Tarfin. ZestMoney is an Indian digital consumer lending brand for customers with no or limited credit history, the firm offers affordable cardless loans through online and offline partners. Sunday offers a one-stop insurance product to the underserved population in Thailand, which includes insurance for healthcare, mobile gadgets, motor vehicles or travel insurance. Tarfin is aimed at the agricultural value chain in Turkey and Romania by providing farmers with agricultural-input financing, inventory financing and point-of sale and crop financing during the harvest period. LeapFrog called capital to finance their investments in Sun King, a leading supplier and financier of solar home systems across Africa and Asia. The company distributes and finances affordable solar devices ranging from lanterns to larger conventional solar systems. The products of Sung King are distributed through wholesale partners or directly through a direct-to-consumer pay-as-you-go distribution network with 20,000 agents and 260 branches in eight African markets. Although this company has a clear link with the Climate and Energy theme, it also contributes to SME development as it enables small business to save costs on energy usage by installing energy-generating solar systems.

Circular economy
ResponsAbility, one of the GIP's investment partners within the Circular economy theme, focuses on providing working capital to (cooperatives of) smallholder farmers in developing countries. Most activity during the second quarter of 2023 occurred in Sub-Saharan Africa, where loans were disbursed to an intermediate who has created an online marketplace which connects coffee farmers and roasters on a global scale. It promotes fairer and more equitable practices in the coffee supply chain, as it bypassed intermediaries and therefore a larger share of the margins flows the coffee producers. Another noteworthy investment concerns a loan to a Ugandan company that helps transition farms to grow organic crops, sources organic commodities for farmers and has local processing facilities for organic soybean, sesame, chia, cotton and other locally produced organic products. The remaining disbursement of Responsibility went to India, Latin America, the Middle East and Eastern Europe.


Climate & energy
With its investments within the Climate and energy transition theme, the GIP contributes to the energy transition towards more sustainable energy sources. ETF Partners called their first capital, which was used as equalization financing for the already completed investments in Net Purpose, Fairly Madeand Dexter. Net Purpose is an ESG data-provider for Impact and ESG data, with a focus on services for institutional investors. Fairly Made focussed on the fashion industry, where it's products are used for supply chain visibility and impact measurement. Dexter is a Dutch start-up which provides renewable energy generation forecasting and trade optimization services to energy companies. KGAL, our German investment partner focusing on renewables (solar and wind) infrastructure continued to make good progress with the development of its projects during the quarter, resulting in a significant amount of capital calls during the quarter. As a result, the GIP's exposure to the Climate and energy theme increased considerably. This capital was used, among other things, to finance the construction of solar power plants in Italy, Spain and Portugal. Funds were also used to finance the acquisition of a stake in a German project which focuses on the development of a mixed solar and wind project. Impax, our London-based investment partner focussing on renewables, called capital to finance investments in development companies for solar power plants and wind farms in Poland, Germany, Italy, Ireland, Greece and the United States. All these investments will soon add a significant amount of renewable energy capacity to the electrical grid.